Vote For Your Favourite Eco Hot Spot and Win a Holiday
It's that time of year again when we call on all responsible travellers around the world to get nominating in our annual Responsible Tourism Awards. And with the nominations deadline of Monday 16 June now less than a month away, we need your help more than ever!
The Virgin Holidays Responsible Tourism Awards, founded and organised by responsibletravel.com in association with our partners, Telegraph Travel, Geographical Magazine and World Travel Market, need your help in scouring the globe for interesting, unusual, innovative but above all worthy nominees for this year's Awards.
In 2007 we received over 1700 nominations from travellers around the world and we'd love to use your responsible travel know-how to find operators, accommodations, low carbon transport, tourism organisations and individuals who you think are the best of the best in responsible tourism for 2008.
The New Forest – 2007 overall winner
Last year's overall winner, best destination, and best personal contribution (for destination manager, Anthony Climpson) award winner was the New Forest in the UK in recognition of the work they have been doing for over 15 years with visitors, industry and the community to look after the environment and promote sustainable local development. Find out more and watch a video about overall winners, the New Forest.
What does it mean to win a Responsible Tourism Award?
If you're not sure whether it's worth making a nomination, take a look at some of these comments from last year's winners:
Mark Jacobs of Azafady, winner of the Best Volunteering Organisation Award said:
'Winning the award has clearly increased the profile of Azafady and its work out in south-east Madagascar.
When potential volunteers look at our website, the knowledge that we have been named "Best Volunteering Organisation" provides an extra assurance that our work has been vetted independently and found to be the best in its field.
We have already received applications from volunteers who have cited the Responsible Tourism Awards as the reason they have applied to us and I've no doubt that winning the award will result in an overall increase in the numbers of volunteers going out to Madagascar.'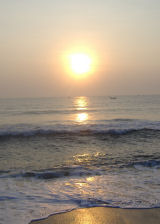 While Arugam Bay, in Sri Lanka, Highly Commended in the Best Destination category said:
'Arugam Bay has been rewarded for its unique community tourism offers, most of all, Arugam Bay people are now very proud of their achievements.
The Award has helped them to get international publicity and for a long time to come they will cherish this Award. The formal tourism sector and the tourism authorities are now taking more interest in our work and want to help us.'
Read more interviews with our 2007 Responsible Tourism Award winners.
nominate by 16 June and you could win a holiday!
You can nominate in any of 13 categories – all we need is the name of the nominee and how to contact them, and a few lines explaining why you think they deserve to win an award. If you nominate an eventual Award winner, you could even win a prize holiday for 2 to India courtesy of Real World Adventures!